They wanted a magical girl...they got a boy instead. Mahou Shounen Igarashi-kun is a magical boy sent to defeat the evil baku eating people's dreams! Will he succeed when there are rival magical girls, magical girl's ex-magical boyfriends, magical plushies of doom and other such standing in his way!? Will it turn into a BL story!? Find out! Reads left to right. Updated when I feel like it. May contain trace elements of BL. Those with allergies, be advised. Currently slowly replacing the old pages with inked versions. So, if some are inked and some aren't, that's why.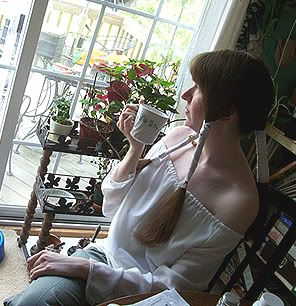 Ito no Kazuki desu!
Internet name: Sora
Real name: For me to know and you...not to XP
Age: 20 (10/27/88)
Height: 5'7 1/2
Hair: brown, too long
Eyes: blue
Likes: anime, manga, Japanese RPGs, BJDs, young adult fantasy novels, cosplay, writing, drawing, cats, animals in general
Dislikes:...Nearly everything else :p Mainly: hot/sunny weather, loud people, people who do bad things (liter, etc.), vegetables, pizza, most non-anime TV (the History Chanel is total love, though), children (real ones. Fictional ones are <3)...
Fav anime: Fruits Basket, Digimon (1&3), .hack//SIGN, Outlaw Star, Big O, Kuroshitsuji, Princess Tutu, FLCL, Kyou Kara Maou, Please Save My Earth, Loveless, Card Captor Sakura, Matantei Loki Ragnarok, Spiral, Tactics, Paranoia Agent, Haibane Renmei, Pani Poni Dash, Get Backers
manga: Death Note, Fruits Basket (early vol.s only), DNAngel, Beyond the Beyond, +Anima, Card Captor Sakura, Loveless, xxxholic, Juvenile Orion, Fun Fun Factory, Flower of the Deep Sleep, Wish, Clover, Fullmoon wo Sagashite, Wallflower, Yami no Matsuei, Recipe for Gertrude, Yumekui Kenbun
american graphic novels: Off Beat, Mega Tokyo
games: Persona 3, Okage, Disgaea, .hack, Ico, Guilty Gear XX, Katamari Damacy
books: Vladimir Todd, Harry Potter (1-5), Artemis Fowl (1-3), Series of Unfortunate Events, the Chrestomanci series, Howl's Moving Castle, The Cockatrice Boys, Broken Sky, Dragon's Blood, Wolf Star, The Only Alien on the Planet, Keys to the Kingdom
Manga-ka: Clamp, Yukiru Sugisaki, Mayumi Azuma, Aqua Mizuto, Sakura Kinoshita, Koge Donbo, Yoshitomo Watanabe, Arina Tanemura, Cocoa Fujiwara, Maki Hakoda, Rito Kohsaka, Yuana Kazumi, Yun Kouga, Yuki Kiriga, Setona Mizushiro, Hajime Ueda, Akira Onodera, etc.
Most hated anime/manga: DBZ, Naruto, anything Ken Akamatsu, alot of male-geared harem shows
Favorite things in an ani/manga: Magical boys (duh), catboys, shinigami, kaitou, tengu, baku, Shinsengumi (Okita! <3), evil genius boys, assassin boys, eye-patches, general weirdness, shota

I dunno what else to say... I think I'm one of those really otaku otakus who do nothing but anime stuff XD


I'm a writer at heart. I've been drawing my whole life like a good artist should, but I still can't seem to become good (trust me, this is a huge source of angst on my part ><;;). I hope you can enjoy my stories anyway, and look past the art.

My other comics (read them! They're good for you! :D)

Nekozuki
Places to find me: